How to Travel to Zhangjiajie National Forest Park
Zhangjiajie is a prefecture level city in the northwest of Hunan Province, the People's Republic of China. Zhangjiajie National Forest Park, on the other hand, locates in the north of Zhangjiajie in Wulingyuan District. The park covers a total area of ​​130 square kilometers and it is the first national forest park in China. In 1992, The United Nations Educational, Scientific and Cultural Organization (UNESCO) added it to the prestigious World Natural Heritage Site list. Later on in February 2004, the park was announced as a member of the first batch of the UNESCO Global Geoparks. The park has unique landforms of quartz sandstone pillar forest that is very rare to see in any other place on the earth.
Content:
☝ The East Entrance of Zhangjiajie National Forest Park
As of today, there are 11 foreign cities that have direct flights to Zhangjiajie Hehua International Airport. These cities are: Hanoi (Vietnam), Ho Chi Minh (Vietnam), Bangkok (Thailand), Siem Reap (Cambodia), Osaka (Japan), Manila (Philippines), Seoul (South Korea), Busan (South Korea), Daegu (South Korea), Cheongju (Korea) and Muan (Korea). Besides China Taipei, there are also 41 direct flight routes connecting Zhangjiajie with domestic cities of the country. These cities are Shenzhen, Guangzhou, Shenyang, Qingdao, Guiyang, Ningbo, Tianjin, Chengdu, Lanzhou, Haikou, Jinan, Hangzhou, Lijiang, Shanghai, Kunming, Dalian, Nanjing, Harbin, Shijiazhuang, Beijing, Changsha, Hohhot, Xi'an, Chongqing, Guilin, Zhengzhou and Nanchang. In case the country you are leaving from has no direct flight for Zhangjiajie, you can fly to any of the Chinese cities mentioned above and then change flight, train or coach bus to travel to Zhangjiajie.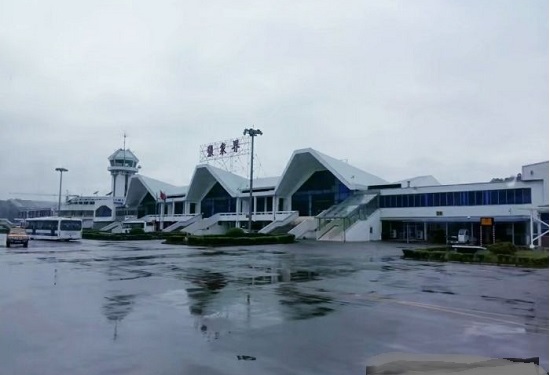 ☝ Zhangjiajie Airport
Zhangjiajie Railway Station and Zhangjiajie West Railway Station are the two main transportation hubs of the city. For each of these two stations, there are more than 200 trains arriving and departing every day, connecting Zhangjiajie to a hundred of cities and regions across the country.
It is also very convenient for international travelers to go to the local railway stations to catch trains for Zhangjiajie upon their arrivals to Guangzhou Baiyun Airport, Shenzhen Bao'an Airport, Changsha Huanghua Airport, Wuhan Tianhe Airport, Shanghai Pudong Airport, Beijing Capital International Airport and etc.
Changsha, the capital city of Hunan Province has both trains and inter-city buses to Zhangjiajie. For many people, it can be a good idea to use Changsha as a transit city to go to Zhangjiajie.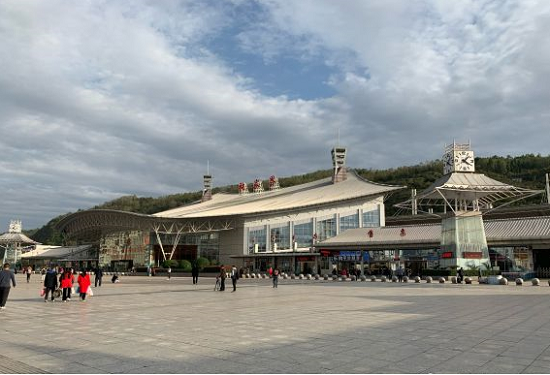 ☝ Zhangjiajie Railway Station
Locating next to Zhangjiajie Railway Station, Zhangjiajie Central Bus Station sends out direct buses to the four ticket stations or the four entrance gates of Zhangjiajie National Forest Park every day from 6 am to 7 pm. The entire trip takes from 50 to 90 minutes and ticket costs from 12 to 20 Yuan depending on which ticket office visitors would like to go for.
Zhangjiajie Hehua International Airport has no direct bus to Zhangjiajie National Forest Park and visitors can take taxi to go there instead. Distance between the two places is about 35 kilometers, and driving time is about 1 hour one way. We also offer airport transfer service. Should you need to rent a car with driver to go from Zhangjiajie Lotus International Airport to any place in Zhangjiajie, please contact us.
---