Zhangjiajie Tour Packages 2021/2022
Traveling to the People's Republic of China? Zhangjiajie ABSOLUTELY worth a visit!In the following, we provide some classic Zhangjiajie tour itineraries covering Wulingyuan Scenic Area, Tianmen Mountain, the Grand Canyon and etc. Please take your time to read the tour descriptions below and check corresponding link to find detailed tour arrangement for you.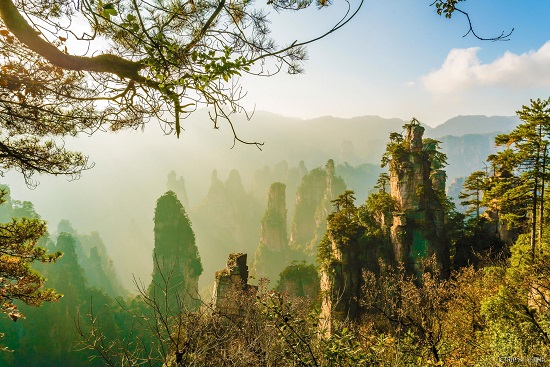 ☝ A photo taken in Tianzi Mountain Nature Reserve of Zhangjiajie National Forest Park.
This tightly scheduled tour has main tourist attractions in the large National Forest Park visited in just one day. To leave more time for beautiful sceneries, we use Bailong Sky Elevator to go up and down the hill. You can consecutively visit Yuanjiajie Avatar Mountain, Yangjiajie Scenic Area and Tianzi Mountain Nature Reserve in 6 to 8 hours.
This is the best selling tour package for Zhangjiajie National Forest Park. We use the first day to visit Tianzi Mountain, Yuanjiajie (Avatar Mountain), Ten Miles Gallery and spend the second day to travel around Yellow Stone Village and Golden Whip Brook. Besides the stunning landscape, the cable car ride in Yellow Stone Village, the hiking along Golden Whip Brook are all impressive experiences.
The Heaven's Gate Tianmen Mountain is a big name in the country. The spectacular scenery and mysterious heaven culture attracts people from around the world. We take you to the Heaven's Gate through the world's longest cable car and then spend 2 to 3 hours on the mountaintop to experience the thrilling glass skywalk, discover the old growth forest and explore the landmarking Tianmen Cave.
The Grand Canyon Glass Bridge, Yellow Dragon Cave and Baofeng Lake may be niche attractions, but they can't be left unvisited. The Glass Bridge is well known as an exciting destination, Yellow Dragon Cave discloses the underground secrets, while the Baofeng Lake refreshes your mind with its magnificent water view which is rare to be seen.
---