Zhangjiajie Tourist Attractions
Zhangjiajie is a world famous tourist place in Central China's Hunan Province. Before coming here to visit, you may need to do some researches to find out its popular attractions to plan and book future travel. You come to the right place by finding us. Here you can find lots of useful online travel resources providing in-depth Zhangjiajie travel guide. Please check corresponding link below for a number of valuable travel information on the attraction specified.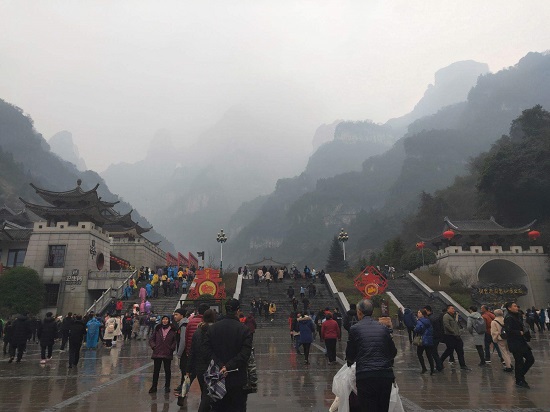 ☝ The Main Entrance Gate of Zhangjiajie Tianmen Mountain National Forest Park.
Star Rating: ✮✮✮✮✮
Zhangjiajie National Forest Park is well described as "an abbreviated fairyland" and "an expanded bonsai". It's now a world renowned must see after one of the park's quartz-sandstone pillars has been officially renamed as 'Avatar Hallelujah Mountain' in honor of the movie Avatar shot in January 2010.
Star Rating: ✮✮✮✮✮
Locating in Guanliping, the southern suburb of Zhangjiajie, Tianmen Mountain National Forest Park is a natural scenic area rated as the national AAAAA level. It attracts more than four million visitors annually both at home and abroad.
Star Rating: ✮✮✮✮
Zhangjiajie Bailong Sky Elevator has the highest altitude, the fastest running speed and the largest load capacity in the world. Bailong Elevator has also won honors such as one of 'International Top Ten Artificial Landscape Projects' as well as one of the " Top 11 Creative Elevators in the World" .
Star Rating: ✮✮✮✮
Zhangjiajie Grand Canyon Scenic Area is located in Sanguansi Tujia Autonomous Town, Cili County. The Glass Bridge in Zhangjiajie Grand Canyon Scenic Area is a must see spot to many tourists, as it is the longest glass bridge with the highest altitude in the world.
Star Rating: ✮✮✮
Besides Zhangjiajie National Forest Park and Tianmen Mountain, Zhangjiajie has many niche tourist attractions including Yellow Dragon Cave, Baofeng Lake, Maoyan River, Jiangya Hot Spring, Yuanjiazhai Ancient Village, Seven Star Mountain which are less crowded but still offer good sightviews.
---