Zhangjiajie National Park Cable Car Rider's Guide
Travelers don't have to worry about the inside park transportation even though Zhangjiajie National Forest Park doesn't allow private cars to enter in. In fact, the Park provides quite several methods to help travelers to get around including free sightseeing shuttle buses, overhead cable cars, Bailong Sky Elevator and even the electric mini ridable trains in Ten Mile Gallery can all be relied on. In the following we'd like to give more information on the three well known cable lines inside Zhangjiajie National Forest Park to help you make the journey more smoothly. Content: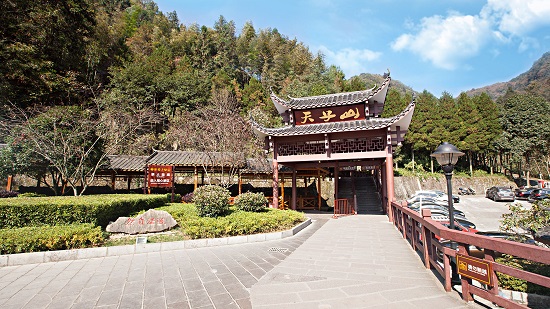 ☝ The lower cable car station of Tianzi Mountain.
The national forest park now has three cables including Huangshizhai Cable, Tianzi Mountain Cable and Yangjiajie Cable.
Put into operation in November 1997, Huangshizhai has the first reciprocating cable way of the country. It has the single length of 973 meters with height difference of 430 meters. As of today, Huangshizhai Cable Car has successfully brought 10 million tourists up and down the mountains. Huangshizhai is actually a mountain which is 1,200 meters high. Here you can find innumerous peaks of rocky mountain pointing high to the sky, dense evergreen trees such as cypress, pine covering the entire mountain with thick clouds floating aside. Huangshizhai is one of the golden tourist attractions in Zhangjiajie National Forest Park and it is said by locals that it's worthless to visit Zhangjiajie without going to Huangshizhai. The 8-kilometer road to the top of Huanshi Village has 3,878 steps and it would take you about 4 hours for a round trip. By taking the cable car, you save both time and energy. What's more, the views on the cable car is far better comparing to what you can see on the by-foot journey.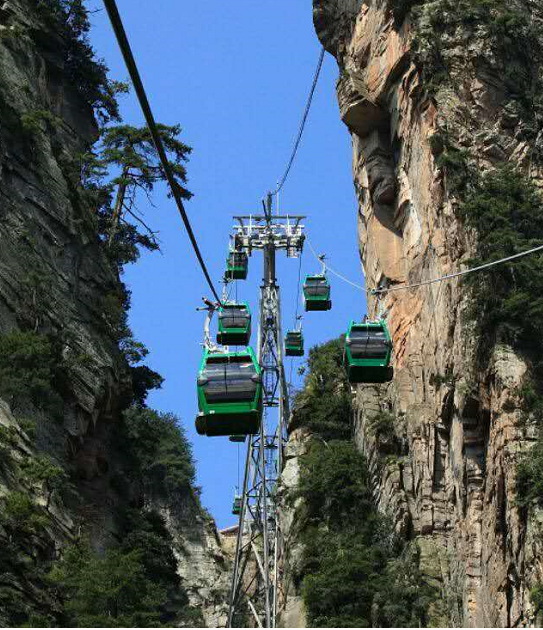 ☝ Huangshizhai Cable Car
Tianzi Mountain has the second tourist cable car after Huangshizhai. As the main method of transportation to visit Tianzi Mountain Scenic Area, this cableway has the length of 2,084 meters with height difference of 692 meters. A single way journey on it takes 6 minutes and 26 seconds. Tianzi Mountain is 1,263 meters high. With magnificent view and rich layered sceneries, it is a good place to see the amazing peaks, sunrise, misty fog and white snow. There is also a viewing saying that there is no need to go to all other mountains under the heaven after you have visited Tianzi Mountain, meaning Tianzi Mountain weights a lot to many tourists. Using Tianzi Mountain Cable Car, you can go directly to Imperial Writing Brush Peaks, Fairy Dispersing Flowers and other hot spots.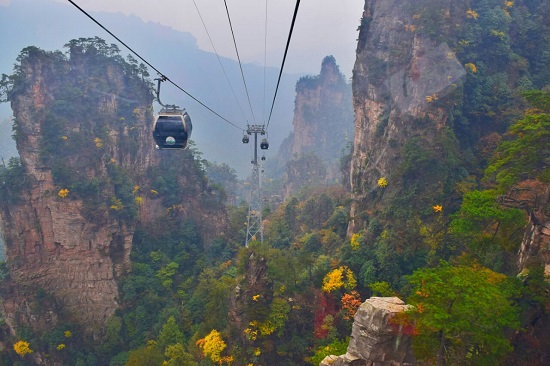 ☝ the Cable Car Ride in Tianzi Mountain Nature Reserve in Autumn
Yangjiajie opened the 3rd cableway after Huangshizhai and Tianzi Mountain. The lower station of Yangjiajie Cable Car locates in Yexipu Village of Zhonghu Town and the upper station locates at Liujiayan Village on Balipo tourist Itinerary. It has the length of 1,878 meters with height difference of 517 meters. One way travel time on Yangjiajie Cable Car is 5 minutes and 12 seconds. Yangjiajie has the most dangerous terrain in Zhangjiajie National Forest Park with beautiful scenery. The natural Great Wall randomly formed by innumerous slim mountain peaks in Yangjiajie are rarely seen in any other part of the world.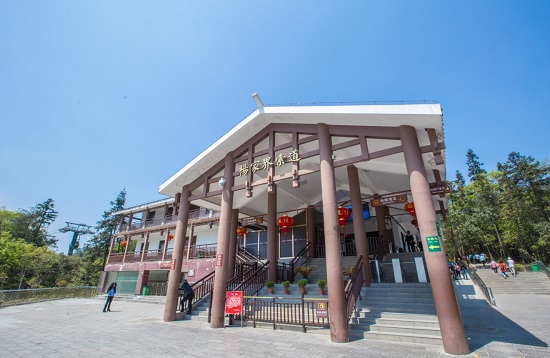 ☝ Yangjiajie Cable Car Station
The opening hours for Huangshizhai Cable Car is from 7:00 am to 6:00 pm and price for one way ticket is CNY 50 Yuan. Ticket price for round trip is CNY 96 Yuan. Ticket price for children and seniors are CNY 30 Yuan for one way or CNY 60 Yuan for round trip. Discounted tickets as such must be purchased directly from the ticket window by submitting related identity documents.
Tianzi Mountain Cable Car opens at 7:00 am and close at 5:30 pm. Ticket price for one way is CNY 67 Yuan or CNY 134 Yuan for round trip. Discounted ticket price is CNY 40 Yuan for one way or CNY 80 Yuan for round trip. Children and seniors must show their identity documents to be able to purchase discounted tickets.
Yangjiajie Cable Car opens at 7:30 am and close at 6:00 pm. Ticket price for one way trip is CNY 76 Yuan and ticket price for round trip is CNY 152 Yuan. Discounted tickets are sold to children and seniors at CNY 46 Yuan for one way or CNY 92 Yuan for round trip. Related documents must be presented to buy discounted tickets on the spot.
As far as we knew, there is no need for travelers to reserve cable car tickets at Zhangjiajie National Forest Park in advance.
Since the cable car services at Zhangjiajie National Forest Park is not free, travelers have rights to decide to use them or not. Depending on which scenic area you wanted to go and the time you'd like to spend, traveler can decide which cable line to use. If you don't want to use the cable car, you can just go up the mountains on foot, shortcoming is it takes you more time and energy to do so.
On the mountains, there are free shuttle buses connecting the upper cable car stations of Yangjiajie and Tianzi Mountain and the upper station of Bailong Sky Elevator which provides more options for travelers to come down from the mountain.
We know some backpackers really want to save. Our advice is that you can enter Zhangjiajie National Forest Park from the north entrance. There you can take free shuttle bus to go up the mountains. Once you have traveled Tianzi Mountain Scenic Area, you can restart the free shuttle bus journey to travel to Yuanjiajie Scenic Area to visit the world famous Avatar Mountain. From the Backyard Garden of Yuanjiajie, there is a little mountain trail going directly to Luancuan Slope of the Golden Whip Brook at the mountain foot. Walking south along the Golden Whip Brook, you will be able to come out the Park from its south entrance.
---