Best Time to Visit Zhangjiajie National Forest Park
When traveling to Zhangjiajie National Forest Park in Wulingyuan District, the real Chinese painting comes to your eyes as the park is well described as "an abbreviated fairyland" and "an expanded bonsai". It's now a world renowned must see after one of the park's quartz-sandstone pillars has been officially renamed as "Avatar Hallelujah Mountain" in honor of the movie Avatar shot in January 2010. So, what is the best time to visit it?
Content: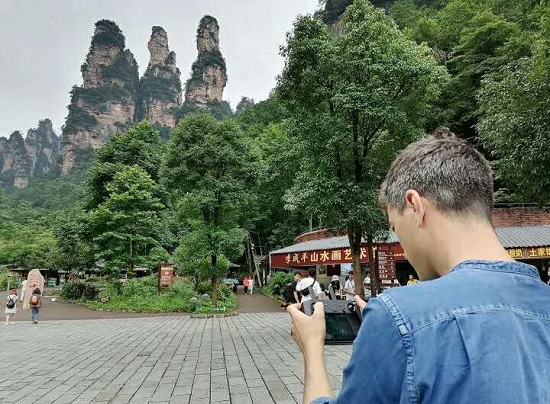 ☝ A French Photographer Is Shooting the Ten Mile Natural Gallery to Introduce Zhangjiajie to His Audiences
Spring arrives late but goes quickly in Zhangjiajie. It usually starts in mid-April and ends in early May. Recommended spots in spring are Golden Whip Creek, Ten-mile Gallery, Yellow Dragon Cave and Baofeng Lake. The Golden Whip Creek is delicate and splendid in spring. Visitors can experience a real tranquility of nature by taking a stroll on the walking path along the creek. Golden Whip Creek becomes a paradise for flowers, trees and singing birds during this time. The scenery is as pretty as a picture. In addition, Baofeng Lake, a calm lake surrounded by mountains covered with trees and the Yellow Dragon Crave, a karst cave full of stalagmites, stalactites, underground streams and large caverns are also worth visiting.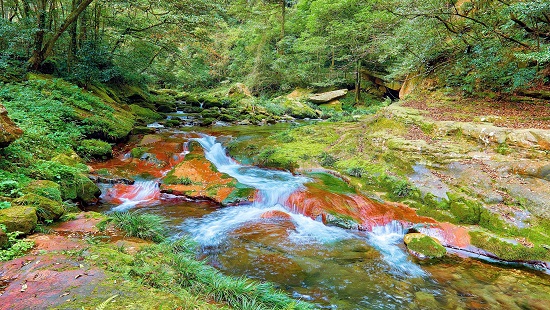 ☝ the Golden Whip Stream in Spring
Summer is naturally a good season for vacation and river rafting. However, in terms of traveling, July and August are slightly worse than May and June. July is a rainy month which is liked by mosquitoes and other biting insects. The visibility is poor and steps are quite slippery in the scenic areas when it rains.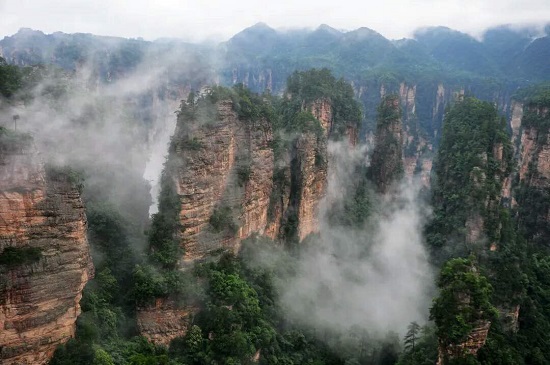 ☝ The Cloud Sea in Huangshizhai Scenic Area under Misty Rain in July
In October, the weather gradually becomes cool and comfortable, and the air smells fresh. It is also the time when the mountains are "painted" with contrasting colors, like red from the maple, yellow from the grass and brown from the trees. As autumn is the harvest season, visitors are more than welcomed to taste delicious local fruits. Overall, the living conditions and food varieties are relatively more favorable in Autumn. Recommended spots in autumn are Tianzi Mountain, Yuanjiajie Scenic Area and the West Sea Stone Forest.
Tianzi Mountain is the most spectacular when the rain is over and the sky is clear with the rushing clouds and fog form a variety of vast landscapes. The white clouds in the West Sea Scenic Area offer stunning scenery to look from the viewing platforms. There are also thousands of stone peaks in this area. Having come to this scenic area, you'll feel as if you are stepping into the sea of stone forest. There is also a Chinese poem about the clouds in the West Sea Stone Forest saying: "the strangest thing in West Sea Stone Forest is its cloud. One can hear the sound of it, or even get tipsy by the smell of it; the clouds are clustering like cotton balls, are flowing like the sea and are rising like the smoke ."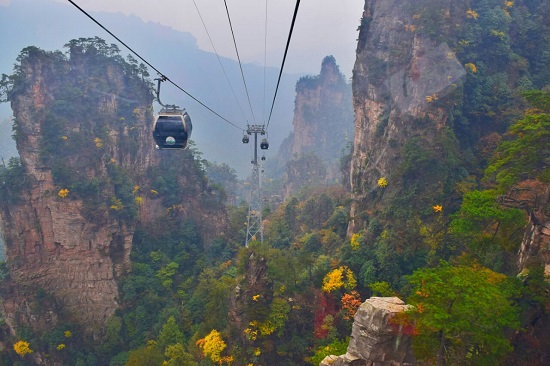 ☝ the Cable Car Ride in Tianzi Mountain Nature Reserve in Autumn
It is said that there are more than twice as many tree species in Zhangjiajie as in Europe, and the deciduous tree species only account for a small portion of all plant species in the entire forest park. Therefore, Zhangjiajie National Forest Park doesn't look deadly in winter at all. Instead, many plants there retain green leaves throughout winter. Tourists who like snow scenes must not miss the beautiful sceneries in the Forest Park during the winter time in December, January and February. As there are just a few times throughout the year that it snows, the snow falls and melts very quickly, it is not very common for tourists to see the mountains covered with snow.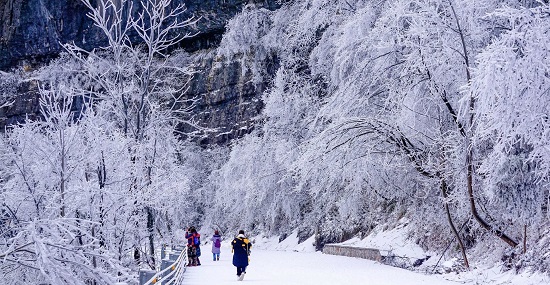 ☝ Snowy Scene in Tianzi Mountain Nature Reserve
Zhangjiajie has northern midlatitude climate, so it has neither extreme heat in summer nor severe cold in winter and it can be travelled throughout the year. Watching flower blooms during the spring, playing with water during the summer, seeing red maple leaves during the fall and enjoying the snowfall during the winter all make Zhangjiajie extremely attractive to visitors. If you insist on asking which season(s) is (are) the best to visit Zhangjiajie, locals would recommend you to come in either spring or autumn.
In the spring, Zhangjiajie is stunning with various blooming flowers. Exploring Golden Whip Brook, hiking along Ten-mile Gallery and adventuring in Yellow Dragon Cave give you the feeling of entering into a hidden paradise. During the autumn, the sky is high and the clouds are pale. Trees in the forest have colors of fall foliage ranging from yellow to orange to red. As delicious fresh fruits such as kiwi and tangerine on the mountain mature for picking in autumn, visitors can enjoy both scenery and food to visit Zhangjiajie during this time.
Relatively speaking, summer seems to be a little bit hot and rainy accompanied by low visibility in the scenic areas while winter is a little bit cold and the tourist areas are less accessible and less joyful.
⛔ Zhangjiajie receives tens of millions of tourists every year. During holidays, the scenic areas are extremely crowded causing both traffic congestions and longer waiting time. Therefore, to make the trip to be more smooth and to have better travel experience, travelers are advised to avoid the peak tourist season. For your information, the country's public holidays in 2020 are listed as the followings:
the Tomb Sweeping Holiday or Qingming Festival starts on April 4th and ends on April 6th.
International Workers Day holiday starts on May 1st and ends on the 5th.
Chinese National Day holiday(Guoqing Festival) starts on October 1st and ends on the 8th .
👞 Since the best way to visit Zhangjiajie National Forest Park is by walking, a pair of comfortable shoes is necessary for everyone concerned.
---