Tianmen Mountain - How Long to Spend
Zhangjiajie Tianmen Mountain National Forest Park covers an area of ​​96 square kilometers and it is the second largest national forest park of the city. It was awarded the AAAAA scenic area by the National Tourism Administration on September 5, 2011, meaning it is one of the most important and best maintained tourist attractions of the country. How long the Tianmen Mountain tour usually takes and what are the attractions that worth visiting? These are the two frequently asked questions to many visitors. We are here to answer them so that you can plan the trip accordingly.
Contents: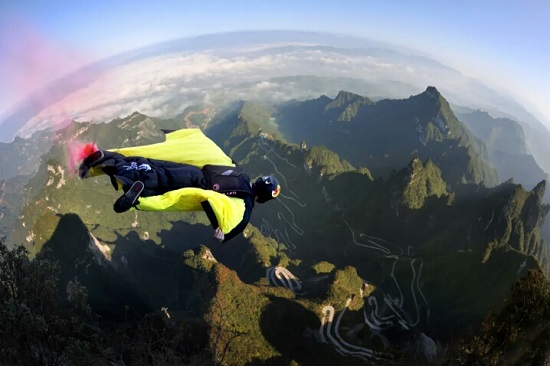 ☝ Wingsuit Flying Through Zhangjiajie Tianmen Mountain National Forest Park
Generally speaking, visitors usually choose to go to Zhangjiajie Tianmen Mountain National Forest Park on a day trip. Tianmen Mountain Forest Park has several scenic areas with the one on the mountaintop covering an area of ​​2 square kilometers. It normally takes 5 hours to go over all beautiful places.
With less time, visitors have no choice but to have a quick glance at Tianmen Mountain, the tour can't be very satisfying and fulfilling. On the other hand, since accommodation is not available on the mountain, it is not cost-effective to re-purchase tickets and come back to visit it again the next day. Therefore, it is not recommended to spend more than one day here and it is better to visit all sceneries in one day. Visitors who have more flexibility both financially and timewise can arrange a few more days in Zhangjiajie National Forest Park which has more things to do and see as it's much bigger than Tianmen Mountain National Forest Park.
Some visitors may have limited time but still don't want to miss the Tianmen Mountain. If that is the case, you are advised to ride the cable car round trip to save time on transportation. As long as you are not coming here during the peak season, it is possible for you to travel almost all beautiful sceneries of Tianmen Mountain even in 2-3 hours.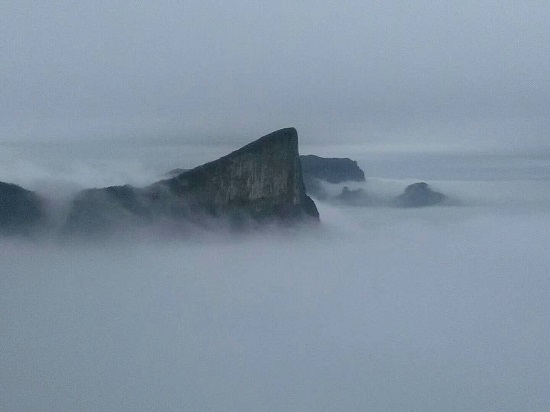 ☝ Tianmen Mountain in the sea of clouds
The glass skywalk, the Ghost Valley plank road on the mountaintop and Tianmen Cave on the mountainside are the most popular spots to visit in Tianmen Mountain. Besides these, Biyeyaotai Scenic Area on the top of the mountain is another place we'd like to recommend as it has a large area of ​​primeval forest where visitors can see Davidia involucrate, the living fossil and an endangered species as well as rare plants such as Carpinus dayongina and the Rhododendron tianmenshanense.
---