Zhangjiajie Misty Rain Show
Sponsored by Zhangjiajie Huanglong Yellow Dragon Cave Scenic Area, the show of Misty Rain in Zhangjiajie is an ethnic megamusical. As the country's first large scale 3D visual folk culture program, the Show of Misty Rain in Zhangjiajie tells a soul-stirring love story between a boy from the Tujia ethnicity and a girl from the Miao ethnicity.
Since it debuted in 2010, the show has become increasingly popular with audiences from home and abroad. In 2019, it received six hundred thousand audiences and performed maximum 8 times per day. The Show of Misty Rain in Zhangjiajie is now a regional exquisite program for cultural travel.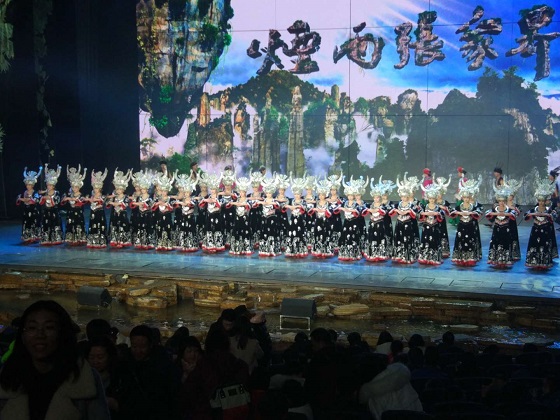 ☝ Huanglong Concert Hall Misty Rain Show
Content:
The venue of the Show is Huanglong Concert Hall located at the entrance of the Ecological Square of Yellow Dragon Cave Scenic Area in Wulingyuan District.
Huanglong Concert Hall has the construction area of 4,970 square meters with 800 seats. With the green mountain to the back, Huanglong Concert Hall has frame-shear wall structure. With the slope roof covered by green lawn and colorful flowers, the string curtain wall constructed with bluestone that integrated completely with the nature, Huanglong Concert Hall looks like a book that is ready to turn the page. It's one of the most beautiful and the busiest concert halls in the country.
Huanglong Concert Hall is designed by Kongjian Yu, the founder and Dean of College of Architecture and Landscape Architecture of Peking University. The name of the concert hall is inscribed by the famous painting artist Yongyu Huang.
Group travelers can take the vehicle arranged by your travel agency to go to Huanglong Concert Hall and backpackers can either take city bus or taxi to go there.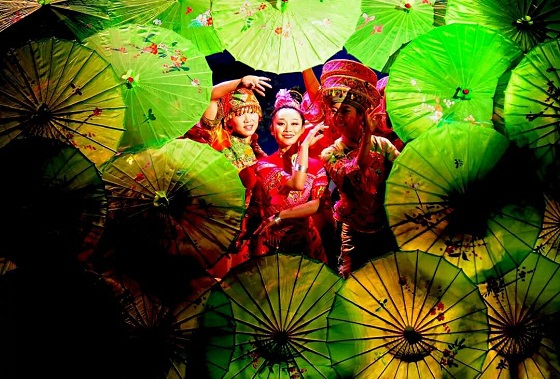 ☝ Huanglong Concert Hall Misty Rain Show
Without special reason, the show would be performed daily.
Normally, it starts at 19:50 and ends at 21:20. During busy season, two or more shows would be hold in one day.
Price of standard ticket is CNY 198 Yuan per person and price of VIP ticket is CNY 248 Yuan per person. Children with height under 120 cm can enjoy free ticket as long as they don't require seats of their own.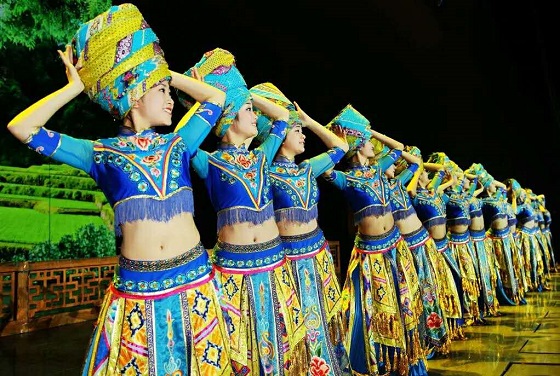 ☝ Huanglong Concert Hall Misty Rain Show
The show of Misty Rain in Zhangjiajie tells an exceedingly sentimental love story that happened between a handsome Tujia young man Luo Bachong and a beautiful Miao girl A Yiduo in ancient times in the deep of Wuling Mountains in the misty rain.
It has ten scenes including the Toast Song for Welcoming Guests, Brocading Girl, Sangzhi Folk Song, Ji Youjian, Air Bath, Love in the Mountains, Zhuiniu Ox Sacrifice, Wedding Ceremony and etc. A number of national level intangible cultural heritage elements such as Sangzhi Folk Song, Maogusi Dance, Tujia Brocade, Da Liuzi and Crying Marriage are applied in the show through which audience can learn various historic cultures in cultivation, construction, apparel, food, wedding and religion in Zhangjiajie region.
In conclusion, the Show of Misty Rain in Zhangjiajie well presents Zhangjiajie ethnic customs that are diverse and mysterious to worldwide travelers .
---