Zhangjiajie Charming Xiangxi Show
Zhangjiajie Charming Xiangxi Show is a large scale gala highlighting on folk dances and songs. It has been performed 7,000 times and been watched by 16 million people at home and abroad since it debuted on stage in year 2000. In 2019, It even made new record by receiving as high as 1.6 million of audiences.
Over 20 years of development, Zhangjiajie Charming Xiangxi Show has turned itself into the hottest folk show in the region attracting packed audiences every night it played. The show has won good reputation not only in Mainland China but also in Hong Kong, Macau, Taiwan and Chinese gathering countries such as Singapore and Malaysia. It is also a favorite program to tourists from East Asian countries including Japan and South Korea.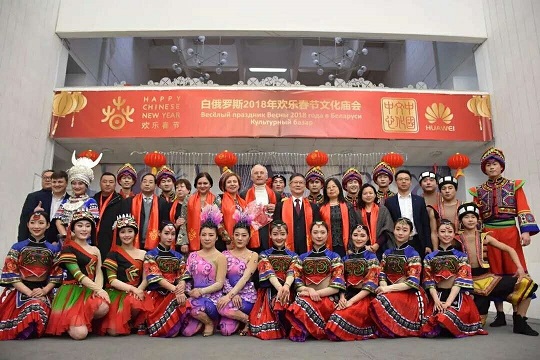 ☝ A Group Photo of Actors of Zhangjiajie Charming Xiangxi Show
Traveling among the mountains to explore beautiful sceneries in the day and watching Charming Xiangxi Show to experience the uniqueness of the west Hunan culture at night have now become the standard option for many people visiting Zhangjiajie.
The show has Feng Xiaogang as the director and Liu Huan as the musical supervisor. The theme song is performed by Song Zuying, Zhang Ye and Chen Sisi, all of these three famous female singers were born and grew up in Hunan Province.
Content:
Even though it has both indoor and outdoor venues, Zhangjiajie Charming Xiangxi Show is mainly performed indoors. The indoor show is hosted in Charming Xiangxi Grand Theatre while the outdoor program is presented on the Cultural Square outside of the theatre.
Charming Xiangxi Grand Theatre locates at No.20, Guihua Road of Wulingyuan District which is very close to the luxury five star hotel Pullman Zhangjiajie. The theatre is less than 2 kilometers away to both the east entrance of Zhangjiajie National Forest Park and Xibu Street. With bus terminal, supermarkets, hotels in the neighborhood, Charming Xiangxi Grand Theatre has convenient conditions for living and travel.
Charming Xiangxi Grand Theatre has two floors with 2,800 seats.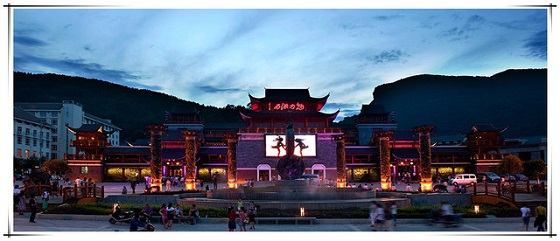 ☝ Charming Xiangxi Grand Theatre
Without special reason, Zhangjiajie Charming Xiangxi Show is performed everyday. The first show takes place from 19:30 to 21:00. During the peak season, a second show is added between 21:00 and 22:30.
A standard ticket costs CNY 228 Yuan per person while business class ticket in central part of 8 to 18 rows costs CNY 268 Yuan per person and first class VIP ticket in central part of 1 to 7 rows costs CNY 308 Yuan each.
Children under 130 cm can enjoy free ticket to the show without arranged seats and they can use shared seats with their parents .
The ticket can be used on the show it is specified only, and it can be neither misused nor reused.
Zhangjiajie Charming Xiangxi Show comprises of four parts, naming Romantic Xiangxi, Mysterious Xiangxi, Enthusiastic Xiangxi and Joyful Xiangxi. The Chinese Pinyin "Xiangxi" means the west Hunan region where Zhangjiajie is located.
The Prologue -- Fire Drumming Performance
The performance of fire and military drum draws open the curtain of Zhangjiajie Charming Xiangxi Show. It symbolizes the brave and courageous characters, great imagination and creative spirit of people in the west Hunan region who are inspired by the full of innovative enthusiasm.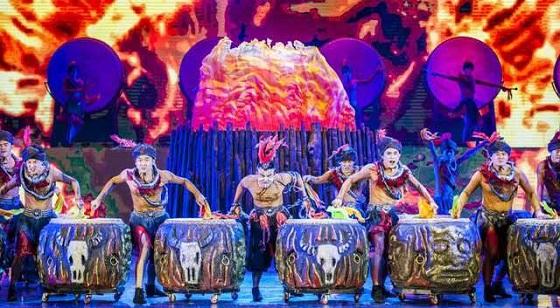 ☝ Fire Drumming Performance of Zhangjiajie Charming Xiangxi Show
Scene 1: Romantic Xiangxi
It has three chapters including Young Country Girl Cuicui in the Ancient Border Town, Chasing Love and Romantic Moment under the Tree. The romantic ways to express love for the Yao and Bai ethnic minorities in the west Hunan region are very well presented here through the dance accompanied with great love songs.
The first scene of the show eulogizes the happy life of local people.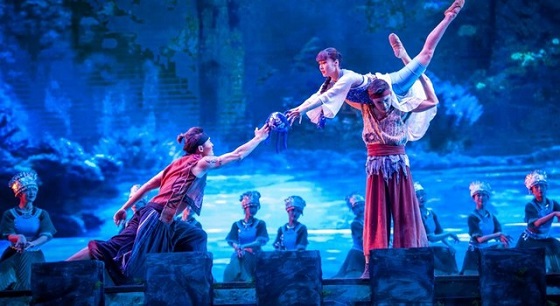 ☝ the Scene of Young Country Girl Cuicui in the Ancient Border Town
Scene 2: Mysterious Xiangxi -- Wild Maogusi Dance
Known as a living fossil of ancient Chinese drama, Maogusi dance is an important culture heritage of Tujia ethnic group with one thousand years of history. Through the primitive dance, Tujia people demonstrate their sincerely mourn to ancestors, warm expect of good harvest and bold pursuit of love.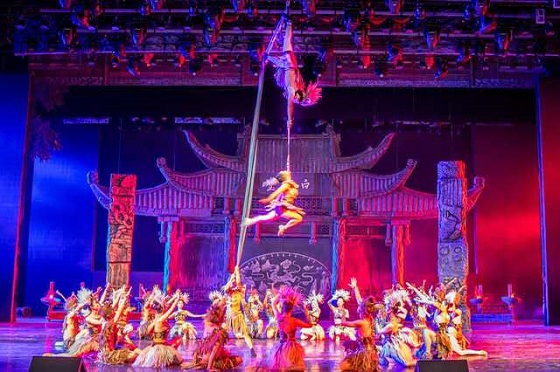 ☝ the Maogusi Dance
Scene 3: Enthusiastic Xiangxi -- Home Return of Heroic Spirit
It focuses on the performance of Xiangxi Corpse Driving which is one of the three evil cultures in the west Hunan region. Originated from the ancient time, corpse driving is actually a mysterious skill through which the corpse drivers use the dark nighttime to "walk" the corpses from faraway strange land to homeland without relying on any vehicle. These corpses are mostly from heroic soldiers who fought for the interest of people and died on the battlefield. Corpse driving makes it possible to bury the remains on their homeland so that these heroic spirits can be rested in peace.
Even though it has never been verified by science, the scene of corpse driving can be found in many horror movies which makes it even more mysterious.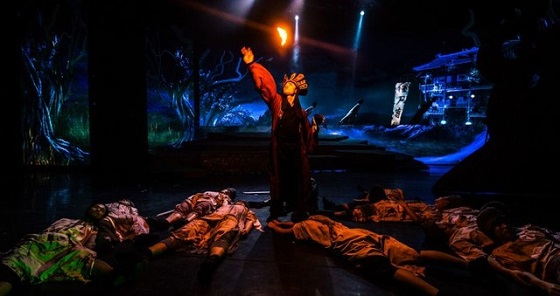 ☝ Xiangxi Corpse Driving
Scene 4: Joyful Xiangxi
It has several chapters such as Inspiring Gathering Banquet, Engagement on Daughters' Meeting, Crying Marriage with Sorrow and Joy.
Gathering banquet is a traditional manner for the Dong ethnic group in west Hunan region to greet their guests. As the highest level of greeting etiquette, the gathering banquet has a few tens to up to one thousand attendees with wood banquet tables taking the whole road. It shows the generous and bold characters in the people of the ethnic minority.
Daughters' Meeting, also known as the Valentine's Day of Tujia people, builds a bridge between the young men and the young women and encourage them to interact with each other through singing so that young people can be freed from arranged marriage and find their beloved ones.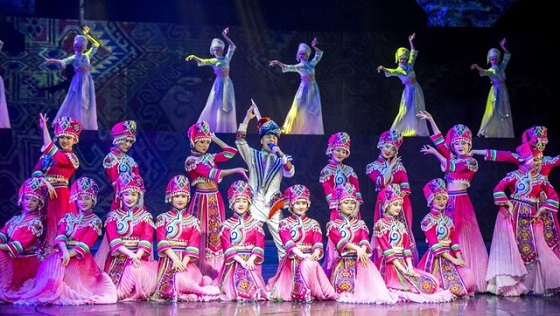 ☝ the scene of Daughter's Meeting, the Valentine's Day of Tujia ethnic group
Crying marriage is a marriage custom popular among the Tujia and Miao ethnic minorities. It's a perfect expression of mixed feelings combining of both bitter and sweet of the girl to be married. Before leaving her home, the bride-to-be would always be crying. She cries for parents' raising, cries for the love and care from brothers and sisters, cries for the inseparable relationship with the hometown. To leave or to stay? the marriage crying with joy well explains the inner conflict of the bride-to-be and it's actually a gratitude education to herself, her family and her followers.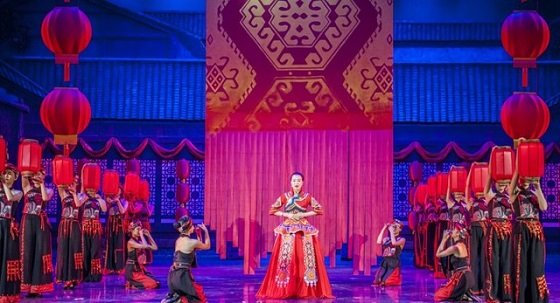 ☝ the Scene of Crying Marriage
The outdoor programs of Zhangjiajie Charming Xiangxi Show covers acrobatics, traditional sports, games and recreational activities from local ethnic minorities. The performance of Climbing up the Mountain of Swords and Jumping into the Sea of Flames is one of the astonishing programs that is worth to mention.
In one word, Zhangjiajie Charming Xiangxi Show perfectly introduces and presents the mysterious ancient cultures in the west Hunan mountainous region and every visitor is guaranteed to have an unforgettable time here.
---