Zhangjiajie Xibu Walking Street
If you go to Zhangjiajie, if you live in Wulingyuan, if you want to visit the night market, "Xibu Street" is a good choice.
Xibu, also known as Xilan Kapu, is a word in Tujia language. It is an exquisite hand-made brocade that Tusi, the headman of Tujia tribe, used to tribute to the emperor. Xibu Street is the most famous commercial pedestrian street in Wulingyuan Distrit of Zhangjiajie. It mainly serves domestic and overseas tourists with several functional areas such as bar street, shopping street, inn street, food and snack street and an entertainment plaza.
With Diaojiaolou or Tujia Stilt House cluster built by the river, the Suoxi River running through the street and mountains surrounding, you will feel like you are coming into an idyllic and fascinating farm when you are walking on the green stone pavement road of the Xibu Street.
Contents: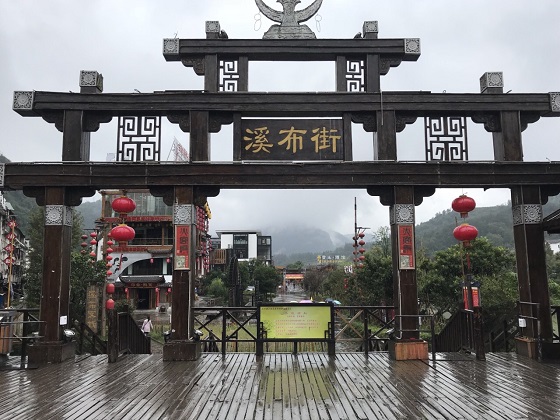 ☝ Zhangjiajie Xibu Street
The predecessor of Xibu Street is called as Ten-Mile Shop Stores. The Suoxi River, the place where the Ten-Mile Shop Stores located at had plenty of water and was a good place for plants to grow and for people to live, therefore, the ancestors of Tujia ethnic group gathered and settled down here several hundred years ago and thus a rich town with a big and bustling marketplace called as Ten-Mile Shop Stores for people to trade items was formed in Wuling Mountainous Regions. Later, an unexpected big flood with mudslide flowed down from the mountain and destroyed all houses and shops and the so called Ten-Mile Shop Stores turned to ashes. In 1990s, the descendants of the Tujia ethnic group built Xibu Street on the former site of Ten-Mile Shop Stores as a remembrance.
Located to the north of Baofeng Bridge in Suoxiyu Town of Wulingyuan District, Xibu Street is built on the former site of the Ten-Mile Shop Stores of the Tujia Ancient Town. It is 2.5 meters north to Baofeng Lake, 2.5 meters east to the East Entrance Gate or so called Wulingyuan Landmark Gate Ticket Station of Zhangjiajie National Forest Park and 6.6 meters southwest to Yellow Dragon Cave Scenic Area. To the East of Xibu Street is Zhangjiajie Grand Theatre where Holy Song for Wuling, a gala of ethnic song and dance is hosted.
Besides ethnic inns, there are many hotels around the Xibu Street such as Zhangjiajie Dawei Hotel, Wulingyuan Jinfuli Resort, Zhangjiajie Pullman Hotel and Qinghe Jinjiang Hotel.
Local city bus routes 1 and 2 pass by Xibu Street.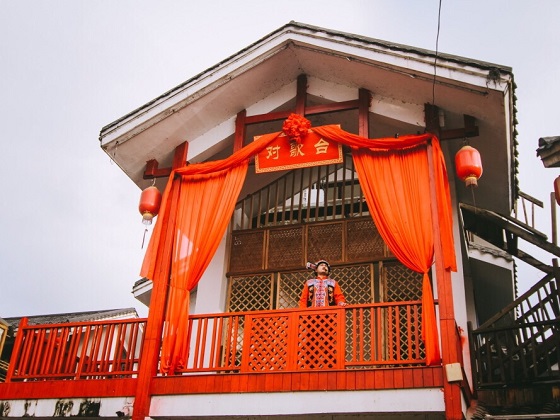 ☝ An Antiphonal Singing Stage in Xibu Street
The opening hours of Xibu Street is from 7:00 am to 11:30 pm. There is no need to purchase the entrance ticket to visit Xibu Street, however, tourists will have to submit their identity documents such as passports at the entrance to get entry tickets to be able to access to the Street.
The Xibu Street has fresh air with quiet, lazy atmosphere in the morning. It's best to take a walk and entertain yourself during this time.
When it turns dark and tourists return from the scenic areas, lights with different colors shining on, Xibu Street turns itself into a people sea, crowded and noisy.
The Xibu Shopping Street is especially popular among girls and women. Here you can find innumerous shops selling all kinds of small commodities including ethnic fashions, silver decorative accessories, Tujia hanging accessories, embroidered wallets with Hunan style, handbags, root carvings and cow bone combs. Handcraft workshops showcasing producing process of batik, silverware, glassware and pottery are other hot spots to visit on Xibu Shopping Street.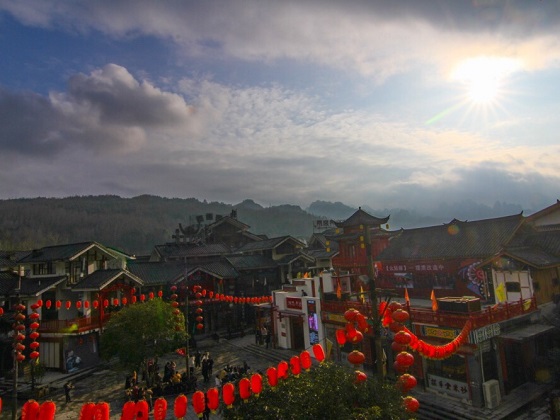 ☝ Zhangjiajie Xibu Street at Sunset Time
Delicious Street Food
The Original Taste Lane of Xibu Street, boasts that it has all yummy foods of the whole Hunan Province. Here you can find various street foods such as sesame seed candy, duck neck recipes, spiced peanuts, stewed shrimps, Hunan Wugang plasma ducks, Chen Mouren's Stinky Tofu, frog-shaped pancake, barbecues, sweets and so on which make the Original Taste Lane of Xibu Street a paradise for food junkies.
Activities and Recreations
Xibi Street can be quiet, it can also be noisy. At night, those like quiet can go to the clear bars to spend leisure time accompanied by light music and coffee. For those who like to have fine can join in all kinds of recreational activities.
The bonfire party starts at 9:30 pm every night is a good place for you to interact and communicate with local people through dance and song while the intangible cultural heritage shows including Xingxi (West Hunan) Laoqiang Opera, shadow play or shadow puppetry, Nuo Opera and the witchcraft shows including Huafu, Fanggu and Dingshu are good ways for you to learn the ethnic minority customs as well as the west Hunan witchcraft cultures. The mystery of the West Hunan Culture is disclosed by one single gesture or word through such kinds of shows.
---